See It!
| | |
| --- | --- |
| So something has piqued your interest in this 'Linux craze' that's been going on lately? Linux has a lot of faces, and there's no better way to acquaint yourself with it than taking a look at it yourself. Nitix does Linux like you've never seen it before. Ease of use is primary, and Nitix proves it at every step. | |
System Status
The first thing you see when you log into your Nitix-powered server, is a complete summary of your system's information. There's no pouring through logs and trying to figure out your system from illegible lines of text. Nitix lays everything out for you to see.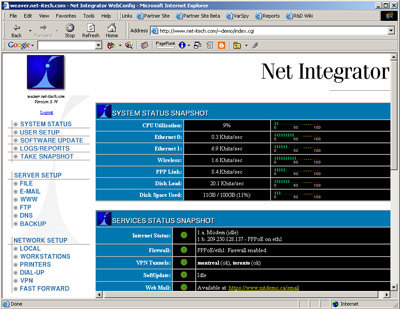 (click here to see a live demo)
Not only can you get a complete view of your system, but all options are provided in an easy to use menu. There are no command lines to memorize or scheduled tasks to setup.
Want to add a user to your system? Simply click the 'User Setup', fill in the fields and click Add User. That user automatically gets permission to his own MySQL database, has an email assigned to him, is given his own website, and more -- all at a click of a button.
(click here to see a live demo)
Regular backups may not seem important to most business owners until disaster strikes. Most small business owners don't have the time to rotate daily tape backups, or constantly write their critical data to CD. Nitix provides a hands off solution that automatically begins backing up your data shortly after being turned on. Choose which teams and users you'd like to backup, and when you'd like your backups done, and Nitix will handle everything from there.
(click here to see a live demo)
Restoration is also a snap, with only a few clicks and a few minutes you can have your saved data back in a flash.
Excited? Want to see more? Why not download a 30-day Free Trial and experience Nitix for yourself.